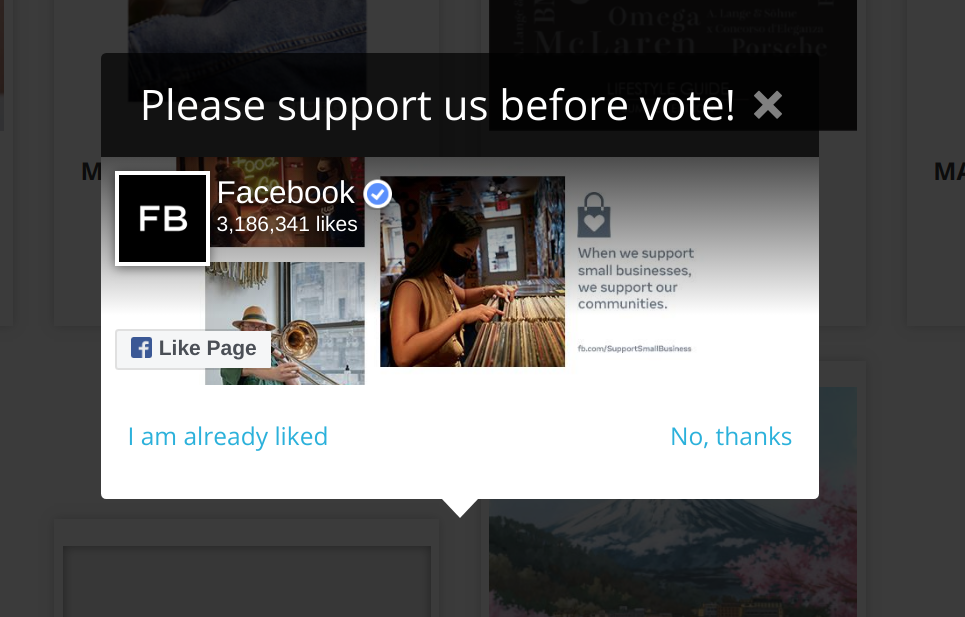 This addon allows increasing your Facebook business page subscribers, by proposing to the users like it before the vote.
In the addon settings you can change:
Group for getting Likes
Popup modal Title and Description
enable WPML support
enable Google Analytics social traking (send data to GA, when user Like/Unlike page)
In contest settings you can:
Disable FB Like addon for that contest
Change global Group ID settings
Notice (applies just for not logged in users!):
If user liked the page, voted and tries to vote from another browser, he will see like popup again, because the session saves in Cookies for 30 days, and in new PC / browser plugin don't know that the user already like your page.
Because of this he must unlike your page, and like it again and after can vote.
This issue can be fixed just if add permission for FB app get user likes, but this way for using FB apps not compatible with FB policy and not possible to using. And this issue also exists in other like plugins, as an example this.
Installation
Install as plugin and activate
After go to Photo contest => Addons for init settings.
Changelog
/* version 0.9 – October 8, 2019 */
– Removed FB login and FB events that causes too many issues, now user have to click "I already liked" to hide the modal
/* version 0.7 – August 29, 2018 */
– Bugfix: not logged in user can't vote event if this allows in settings
/* version 0.6 – June 30, 2018 */
– Page widget replaced to Like button to fix issues with FB tracking "like" event after FB update
== version 0.5 > April 20, 2017 ==
[new] Comatibily fixes with main plugin version 2.2.500+
[new] Now possible override global FB Group settings in each contest
[new] If user logged in – he need like group just once, and result will be saved in user meta (until FB Group ID will be chagned)
== April 2, 2016 > version 0.41 ==
== December 30, 2015 > version 0.4 ==
== September 16, 2015 > version 0.2 ==
== September 14, 2015 > version 0.1 ==
Screenshots